We are OPEN!
Following the State Government re-opening roadmap we are OPEN. All patrons over 16 years of age MUST provide proof of vaccination upon entry and follow the current public health orders. Please refer to our COVID Updates page for more information.
Welcome to Singleton Heights Sport Centre
Singleton Heights Sport Centre is your local indoor sports centre featuring an indoor stadium with multi-use court, squash courts, kiosk, event and function facilities in Singleton Heights, NSW.
Our facility offers you a wide range of sports to participate in including Basketball, Futsal, Netball, Gymnastics, Squash and Volleyball. We are also the ideal location for your next event whether it's for function hire or to host your next birthday party. Join us for a sports program, hire a jumping castle or set up stalls for a market.
Singleton Heights and Sports Centre is staffed by a team of exercise and customer service professionals who are here to ensure you have the best leisure experience possible.
We look forward to welcoming you to the centre soon!
Opening Hours
Monday - Thursday
4pm - 9pm
Sunday
2pm - 5pm
R U OK? Day
Much like 2020, 2021 has been a challenging year, to say the least. Due to government-mandated lockdowns, we have all endured numerous lockdowns which can take a significant toll on our mental health. R U OK? Day is here for 2021 and it is a great opportunity to check in on those around you.
Men's Health Week
This week is used to highlight the issues surrounding the status of means health. This is important to highlight as the health status of males is typically poorer than that of females. There is a sigma surrounding men's health which leads to men being less likely than women to seek out mental health services, despite the rate of mental health disorders being similar.
Take charge of your overall wellness
A person's wellness is made up of much more than just physical health, exercise or nutrition. It encompasses multiple aspects of everyday life including physical, mental, and personal well-being. To achieve overall wellness a person must actively make choices that lead toward a healthy and fulfilling life. Find out more!
Keep Active this Winter
It is a known fact that when winter comes around and the temperature starts to drop, so does the motivation to get out and be active. Plenty of excuses start to circle around in your mind as to why you should just stay in bed for that little bit longer. Well, we are here to tell you why it's important to keep your activity levels up during winter, and to provide you with some great tips on how to make it easier for yourself!
Sports
Join a competition or play on one of our courts.
School Programs
Use our facilities to run your next school competition or book one of our programs
Birthday Parties
Choose from our birthday packages or hire the space for your party or event.
09:00AM
28 Jun 21 - 02 Jul 21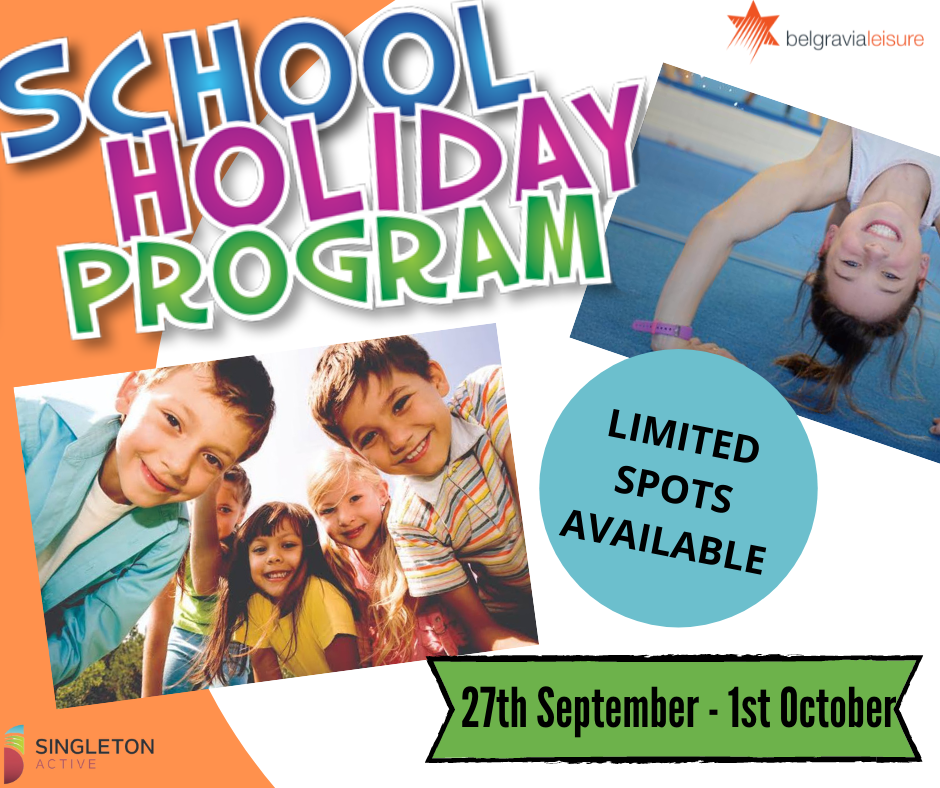 School Holiday Program
Local Event
School Holiday Program at Singleton Heights Sport Centre!

Date: 27.09.2021 – 01.10.2021
Time: Monday – Friday, 9am – 3pm
Location: Singleton Heights Sport Centre
Age: Primary school aged (5-12)

Cost
$40 a child / per day or $150 for the week
(pay 4 days get 5th FREE)
$280 for x2 siblings for the week ($300)
$400 for x3 siblings for the week ($450)

What to bring
Provide your own Morning Tea and Lunch (nut free zone), Drink Bottle, Enclosed Shoes only, appropriate sporting clothes. Kiosk will be open at morning tea and lunch. (lollies, potato crisps and drinks available.

LIMITED SPOTS AVAILABLE!

To book: Email us on singletongs@belgravialeisure.com.au or call on 02 6572 1359
Singleton Active Community
Singleton Active offers the community a way to partake in activities that embody strength, resilience and a positive approach to physical and emotional wellbeing.